FC Dynamo Moscow has recently experienced relegation from the top tier Russian League, the Russian Premier League saw Dynamo Moscow finishing the 2015-16 season in the bottom spots and being dropped down to the 2nd tier Russian National Football League.
Suffering relegation is something that just about every club has suffered at any point in time, not all the clubs in the world have been relegated but the vast majority of them have been. However, when it comes to FC Dynamo Moscow this is a very shocking thing to see as the Russian club had never been relegated before.
It's because of what FC Dynamo Moscow has accomplished in the world of football that Soviet football has been getting more attention for the past decade and historically, their accomplishments have been very important for the world of football in Russia.
In 1963, Lev Yashin became the first Soviet footballer to life the Ballon d'Or title which is awarded to the undisputed best football player and Lev Yashin only performed with Dynamo Moscow in the entirety of his career.
A few years later in 1972, Dynamo Moscow managed to reach the final of a European football competition after reaching the finals in the European Cup, Winners' Cup and Dynamo Moscow was the first Soviet club that has reached this feat.
All of these accomplishments from Dynamo Moscow helped increase the quality of football in the Soviet Union but they have recently been going through a chain of unmemorable events as Dynamo Moscow was banned from competing in the current season of the Europa League.
Being banned from the Europa League at around the same time that a club suffers relegation is a huge blow for any club to experience but this is exactly what Dynamo Moscow has been living with in the past few months.
Balazs Dzsudzsak is set to make his mark at Abu Dhabi after his impressive performance at the Euro 2016 for Hungary.
He has had moments of brilliance and burst throughout his 12 year career. Arabian Gulf Cupholders Al Wahda are keen on retaining their status, and they hope he would be able to live up to the hype. He made his debut at age 20 even when he was still playing for Debrecen in his native country. He has been impressive for the country ever since. He enjoyed a decent time at PSV Eindhoven until 2011, but hasn't quite reached those levels for Anzhi Makhachkala, Russian side Dinamo Moscow and Bursaspor.
When he left the Dutch club, he was only 24 years, but his sterling performance made him to be linked to several clubs. In 150 games with PSV, he scored 54 goals and created 50 assists from the wing. He spent a brief time at Anzhi, playing eight games before he moved to Russia in 2012 for €19 million. He had off the field issues, with the height being when he was shot at with a paintball gun by the Dynamo Moscow fans of the club as they protested the number of foreign players at the club.
throughout his three year stay at the club, he featured for more than 100 games but struggled to score. He could only net 13 times throughout his stay. In 2015, he moved to Bursaspor for just €1.6m, but continued with his poor form. He was desperate to leave the club from as early as December. He was sent off during the period, leaving him with a feature in six out of 19 games.
Dzsudzsak has the chance to redeem his image, after years of underperformance in club football. Aged 29, he has been decent for Hungary but is now set to leave his mark in UAE.
Brondby IF are hoping to get a place at the Europa League and they have Hibernian to get past in the qualifying second round.
Since the epic game of Celtic and Russian giant Dynamo Moscow far back in 2009, no Scottish outfit has lost at home first then gone on to win the second leg.
Coach of Hibernian Neil Lennon is hoping that they change that when they face Brondby IF after a first leg deficit. He says he knows that they are underdogs after their first leg loss but he feels they can still turn things around at Copenhagen.
When the coach was asked about the Europa League tie, he said: "Can we turn things around? It's well within our means to do that, yes. It's going to be very difficult. They're a good side, with strength in depth – internationals coming off the bench – but we're ready."
The captain of the side David Gray who played in the first leg of the game even though his fiancée gave birth on the eve of the match, reaffirmed their commitment to upturn the scoreline in the away game. The player who was the first Hibs captain to lift the Scottish Cup in 114 years said they were capable of upturning the result in the second leg.
The coach admitted that he would be pained not to be able to stand at the touchline due to the ban he received in the first leg but added that he has people that will handle the job. The game will be difficult to predict due to the regular changes the Brondby manager Alexander Zorniger makes. The coach shuffles his team for each of the four games they have played which have all resulted in victories for the club. The winners of the game will face Hertha Berlin.
Dynamo Moscow are set to allow the transfer of two players from the club this summer.
French giant Olympique Marseille are already very close on completing the transfer of Slovakian international central defender Tomáš Hubočan from the club. The player was reported to have flown to the French club to finalise contractual negotiations and undergo a medical pending the move, according to reports from La Provence.
Also, L'Équipe's Mathieu Gregoire reports that the deal involves €1.2 million which could complete within the next few days. The French side is preparing for the unveiling of the player having reached an agreement for the transfer.
English Championship club Newcastle United are also looking to sign a player from the Russian side. The club has had a lot of activity signing players and letting others go. They have completed the signings of forward Dwight Gayle, aside Matz Sels and Matt Ritchie. Coach Rafa Benitez still wants another to boost the defence. It would difficult to convince a good defender to join the second tier football club but there are experienced ones that can do the job very well for short term pending when they return to the Premier League as they hope.
One of the good options is Christopher Samba. Samba, 32, spent three years at Dynamo Moscow before the club released him. He has good leadership qualities that would prove important in the Championship. He has spent five years before with Rovers, so he is used to English football. His power, confidences aside being imposing would definitely be useful at Newcastle. Recently released Martin Demichelis from Manchester City is another option, Newcastle is considering. There's also Brazilian Alex that has been released by AC Milan. The former PSG player would prove useful to Benitez as they plot their way back to top flight English football.
Russia has called up a replacement for injured veteran midfielder of Dynamo Moscow, Igor Denisov. Ahead of the continental tournament in France, Artur Yusupov would now replace the Dynamo Moscow star player.
During the final warm-up game ahead Euro 2016, the midfielder's thigh muscle was torn, necessitating the call up of Yusupov who has just two national team appearances.
Yusupov who plays at Zenit St. Petersburg said the invitation to the team's training camp came out of the blues as he was vacationing in Monaco when he was summoned. He had to hurry to Russia's training camp in Paris and even borrowed a team mate's boots of training on Monday.
Aside Denisov, Russia is missing injured midfielders Alan Dzagoev and Denis Cheryshev, and defenders Yuri Zhirkov and Oleg Kuzmin. The missing players are a big blow to the hopes of the team ahead of the tournament. The Russian Football Union (RFU) released a statement that Denisov's injury was sustained when they played the 1-1 draw with Serbia in Monaco on Sunday night.
Yusupov, 26, said: "I am still shocked, but I need to adapt and tune in for the work. Being a part of the national team is a great honor for me, although the news came like the snow in summer."
Russia would not be breaking the 2016 Euro Cup regulations as the team can replace an injured player until the team plays its first match of the tournament and upon agreement from an UEFA medical committee's specialist.
Russia hope to be able to shake off the pre tournament worries before it starts, especially as they are also dealing with the pressure back home due to the results of the games. They defeated only Lithuania by three goals to nothing, lost to France and the Czech Republic by 2-4 and 1-2 respectively. They will be facing England, Wales and Slovakia in Group B in France.
There are not too many managers who are managing a top club and then, the national team of that particular country as well.
Leonid Slutsky is doing that in Russia, but, he reckons because of not having a Football playing career, he has had to face non-acceptance from people right through.
It's not that Slutsky did not have aspirations of playing the game. He definitely had and he loved Football like any other kid does. He was a shot stopper at school.
But, a miserable accident in his teenage saw one of his legs getting damaged to the extent that he had to remain on bed for about 12 months or so and the doctors feared standing on that leg might not be possible for him.
However, thankfully, the injury did not reveal itself as badly as feared and he recovered to stand again, but, the damage was enough to ensure that his dreams of making a career out of his playing skills were over.
However, such was his interest in Football that he wanted to do something which would keep him close to it and that made him go for a coaching certificate so that he could have it as a future career option.
Today, if he has got the jobs that he has, it has come after years and years of efforts as he has shown his credential at all the levels while climbing up the ladder in Russian Football. But, many are still not sure of his efficiency.
Talking about that, Slutsky says, "I have dealt with refusal from the days I was working in junior Football and it's still happening I reckon, with a section of supporters willing for me to be out of the job. So, it's a case of me trying to prove myself every day."
Former Chelsea wing-back Yuri Zhirkov, who now plays for Zenit St Petersburg will miss the Euro 2016 tournament in France.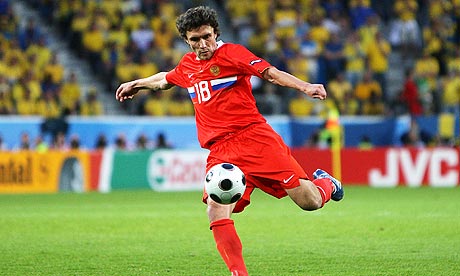 He will be joined on the sidelines by Russia's all-time leading scorer Alexander Kerzhakov. Zhirkov, 32, will miss the tournament due to an inflamed Achilles tendon injury, according to reports.
The talented player who can take on the left midfield, left back and even central midfield positions made his debut for the Russia national side in February 9, 2005. He has 68 caps to his name and two goals.
He started his career in the early 2000s first with Spartak Tambov before moving to CSKA Moscow. He played there till he joined English Premier League giant Chelsea FC in 2009 for about 15 million Pounds.
He played just two seasons till his departure to Anzhi then to Dinamo Moscow. So far, he has played 13 games for Zenit this season.
On the other hand, Russia have named Roman Neustadter, who was born in Ukraine and does not yet have Russian citizenship, in their Euro 2016 squad. The Russian Football Union (RFU) announced the squad over the weekend, with head coach Leonid Slutskiy including the 28-year-old Schalke defender, who has been living in Germany since he was a child and has played for Germany's youth teams.
Russia will be without midfielder Alan Dzagoev after he suffered a broken metatarsal while playing for CSKA Moscow. Krasnodar's Dmitri Torbinski was called up to replace him.
CSKA Moscow's 19-year-old attacking midfielder Alexander Golovin, who only recently broke into their starting line-up, has also been included in the 23-man Russia squad. Slutskiy, who is coach of CSKA as well as the national team, has, omitted two of Russia's most experienced players in Zhirkov and Kerzhakov, whch has seen the bookmakers rate their chances less highly, with the latest StanJames betting odds for Russia to be outright winners way out at 40/1.
Kerzhakov, 33, who has scored 30 goals for Russia, missed the first half of the season after falling out with Zenit head coach Andre Villas-Boas and went on loan to FC Zurich, who are bottom of the Swiss Super League. Russia are in Group B with England, Slovakia and Wales.
At the beginning of 2016, Guus Hiddink started to take control of Chelsea as he replaced Jose Mourinho who was sacked due to a string of poor results. Upon his arrival to Stamford Bridge, Hiddink has a huge mountain to climb as Chelsea was in shambles.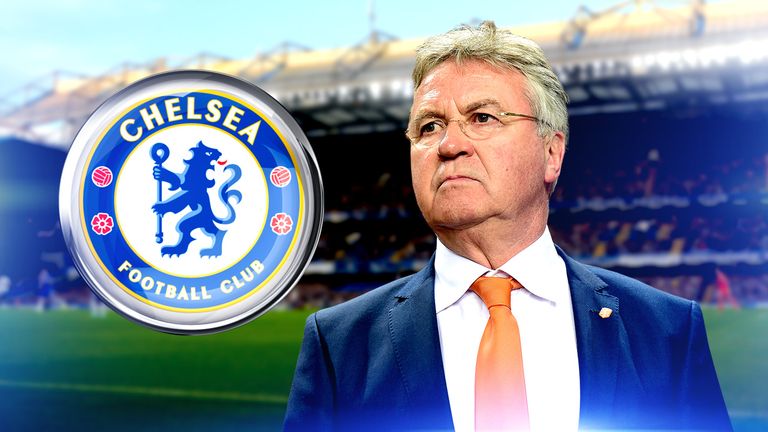 During the last few months of Mourinho in charge of Chelsea, the team was performing disastrously with successive disappointing results and they were even in danger of getting relegated as Chelsea was dangerously slipping down the bottom spots of the Premier League.
When Guus Hiddink arrived to Stamford Bridge, there were doubts if the Dutch manager could repair the state of the squad as they were just discouraged and looked like a completely different squad than the one which won the Premier League title in the previous season but Guus Hiddink has managed to spark life to the English club.
The Dutch coach has managed to keep Chelsea in the middle section of the Premier League standings and despite all of the obstacles that he had to overcome after being selected as the coach of Chelsea, Yuri Zhirkov always had his support from the start.
Speaking to a football ticketing website he spoke of his adulation for Hiddink, and why he thought he had done such a good job at Stamford Bridge.
"I know Hiddink and I have no doubt that once he took over, the atmosphere at Chelsea became so much better and more relaxed than it had been before. The reason for the recent poor run is psychological. A year ago, Chelsea won the championship and this has had a bearing on the next season. When you win the title, it is also difficult to defend it and to play at the highest level. I think with Guus, Chelsea will ride out the crisis and next season will be back at the top of the table."
This was the statement released by Dinamo Moscow's Yuri Zhirkov back on January of the ongoing year as the Russian defender outlined his confidence towards Guus Hiddink and Zhirkov was correct in his prediction as things did indeed turn out well for the Dutch coach.
The former Chelsea player, Yuri Zhirkov is set to leave Dynamo Moscow and join FC Zenit Saint Petersburg on a two-year contract.
The player who was playing with Dynamo Moscow for three seasons was set to join Zenit on a free transfer at the end of his contract, but the two clubs managed to find a transfer agreement that will allow Zhirkov to make the move before the contract expire.
The left-sided midfielder will be a wonderful addition to FC Zenit Saint Petersburg, who looks to strengthen their team to become more competitive not only in Russia but also on the European side.
Yuri Zhirkov has been quite successful with Dynamo Moscow. After having made 48 appearances with the Premier League club Chelsea, the Russian player moved back to his home country where he signed for FC Anzhi Makhachkala. During his team in England, the midfielder managed to score only one goal with England. In terms of trophies, he won the Premier League as well as the FA Cup for the London team.
Once back to Russia in 2011, he made 50 appearances with Anzhi where he managed three goals. In his last game with Anzhi, he played in the Russian Cup final where his team, unfortunately, lost to CSKA Moscow.
Following Anzhi financial problems, Yuri Zhirkov left the team and made the switch to Dynamo Moscow where he played 14 league matches for his first season. He would score three goals during his debut season. He stayed two more seasons with Dynamo Moscow where he managed another 53 more appearances for the Moscow team. He will score two more goals during this period. Both goals came in the Europa League. In total, he will make 67 appearances for Dynamo Moscow and scored five goals in all.
Axel Witsel has once again reiterated his desire to leave Zenit St Petersburg in the summer.
The former Benfica midfielder is one of the stars in the Russian Premier League. However, he has been unhappy with life at Zenit St Petersburg for quite a while. He moved to the Russian club in 2012 amidst several offers from top European clubs. He chose to enjoy the riches of Zenit St Petersburg, who recently signed Yuri Zhirkov, rather than the possibility of playing at a club where winning the Champions League is a possibility. The 27-year-old has finally admitted that he would like to play in a league where there is prominence.
Juventus and Manchester United have been previously linked with his services, but it remains to be seen if they will come in with a concrete offer given that he is almost about to enter into his 30s.Witsel has the chance to impress potential suitors by performing well for Belgium at the upcoming Euro 2016. Since his debut for the national team in 2008,Witsel has been a key figure and has made more than 60 appearances. Aware that securing a move at this time in his career will be difficult,Witsel also claimed that he is not 100% sure about his departure from the club.
"I still have a contract for one more year come June and the club know how I feel. I would like to play in a bigger league.I cannot say that I will 100 percent leave, but we have not held talks over a new deal and my intention is to leave this summer. I want to focus on finishing the season on a high, then there's the Euros and then we will see what happens.I spoke to a number of clubs last summer, but it was not about money for Zenit. They wanted to keep me because of the Champions League," said Witsel.